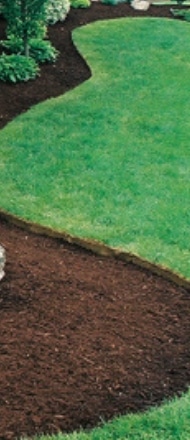 Flower Bed Edging
This service will take place once at the beginning of the season and maintained throughout the season with our weekly lawn mowing service. In some cases, a second Turf Edging may be necessary to maintain clean edges later in the season. So don't ignore the little things when it comes to your lawn this season. Get a quote for turf edging today, and you'll be one step closer to having a lawn you can truly enjoy.
Why Edge Landscape Beds?
Edging your landscape beds has several benefits.
The functional reason behind cutting in a nice, deep, defined edge on your flower beds is to retain the mulch. After any kind of decent rainfall, the water will attempt to carry your mulch right out of your beds and into your lawn. This becomes very unsightly, very fast!
The other reason to define your bed edges because it looks so good! Take a look at the pictures on this page again! If you are ready to take your landscaping to a completely new level this season, Pro Mow is here to do the heavy lifting and manual labor for you.
After your beds are edged, we are also happy to deliver and install mulch!
Request Your Edging Quote
Areas We Service
Kansas City, Missouri
Liberty, Missouri
Smithville, Missouri
Parkville, Missouri
Gladstone, Missouri
Zip codes: 64155, 64156, 64157, 64154, 64089, 64118, & 64119
Pro Mow Lawn Care
Location: Kansas City, Missouri
​Phone: (816) 457-3740
​Email: Contact@promowkc.com
​Hours: Mo-Sa: 8:00am-5:00pm
​Closed Sunday