If you're looking for a complete lawn maintenance solution, look no further!
Welcome to Pro Mow Lawn Care in Kansas City, MO.
As we enter the 2021 growing season in Kansas City, we wanted to let you know we are open and accepting new clients.  Our quotes are provided quickly, without obligation to accept, via phone or email.  We offer contactless payment and all of the work we perform occurs outdoors.
Contact us with confidence for your lawn mowing and/or fertilization and weed control needs.  We are your solution for complete lawn maintenance!
Mow and Grow Programs
Pro Mow Lawn Care offers 'mow and grow' programs.
Many of our lawn care customers in Kansas City, Liberty, Smithville, and nearby towns and cities love the fact that we can mow their grass and treat their lawn.  We are their 1-stop-shop for their lawn care needs and would love to offer the same services to you if you are in the market for a local lawn care service.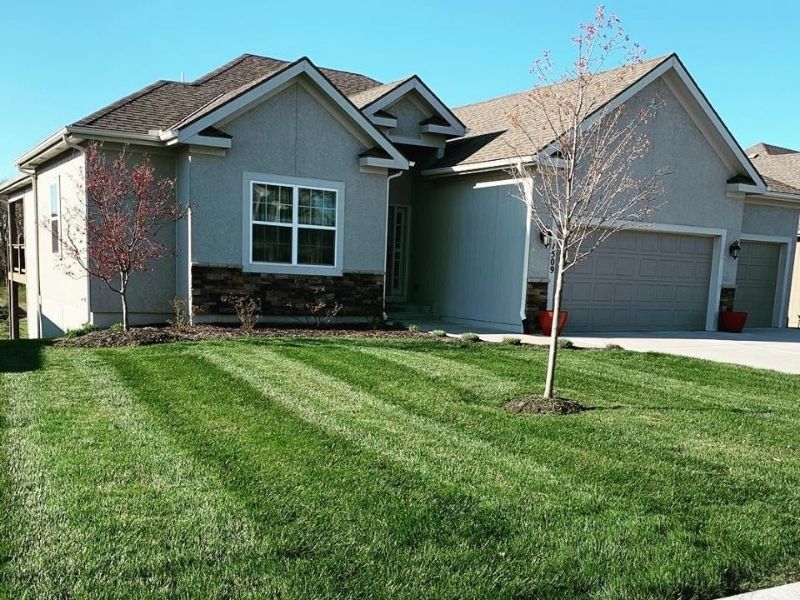 Kansas City's 1-Stop-Shop For Lawn Care Services
One major benefit of having the same lawn service mow and treat your lawn is that you don't have to worry about your lawn treatment being applied right before or right after your lawn gets mowed.  It is very easy for us to coordinate both of these services if we are providing both.
The main concern with the grass being mowed too near the time of a lawn care application is that it could render the weed control aspect of the treatment to be ineffective.  If the grass is mowed right after the application, there is a good chance the weed control didn't have enough time to work its way through the weed plants to gain control.  If the grass was just mowed before the herbicide was applied, there may not be enough foliage on the weed plants for the weed control to be effective.
Aerating and Seeding Creates Beautiful Lawns
Along with offering the core lawn maintenance services of mowing and lawn treatments, we complement these services with our aerating and seeding service.
Aerating and seeding is an excellent way to fill in bare spots or thin areas in your turf.  Aerating by itself allows water and nutrients to more easily travel deeper into the soil.  The process also de-compacts the soil and allows your lawn's root system to expand with ease.
If you need to re-seed areas of your lawn, right after the core aeration is the time to do it.
We Also Cleanup Lawns and Landscapes
To round off our complete lawn maintenance suite of services, we also offer turf edging and cleanups.
Turf edging involves defining all borders where the grass meets mulch beds or paved surfaces.  This clear break between where the grass ends and the landscape bed or paved surface begins really looks great.
Leaves are the main yard waste item we collect and remove from lawns and landscapes.  We also pull weeds and pick up other debris such as fallen limbs.
Request Your Lawn Estimate Online In Kansas City
Request your lawn estimate online or by phone today.  James and his team of lawn care professionals at Pro Mow Lawn Care are ready to make your lawn stand out this summer!